I've always been a learner in the physical world and my materialistic achievements includes working as a photographer, trek leader, engineer and a RYT 500 Hour and Masters in yoga teacher in varied aspects. To further elevate my skills I've worked as a photographer and administrator of various yoga workshops abroad.
" I'm a student of Vedanta and I practice Patanjali as well, I listen to Krishnamurti and I dance to Osho too, I am what you see of me and I am so much more ".
Here at Rama space, I teach sound healing workshops and lead yoga and meditation retreats in the Himalayas. Hariaum & Namaste!!
Meet our group of international yoga instructors who are here to expertly guide you through your yoga training in Rishikesh. Their combined years of experience and intuitive teaching approach provide an in-depth understanding of the ancient wisdom of yoga as well as practical teaching techniques.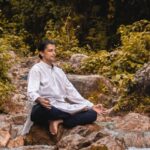 Bhavesh Bhimanathani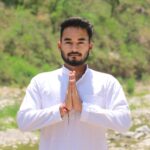 Ashish Gunsola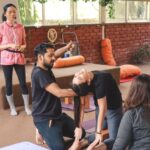 Rajeev Nautiyal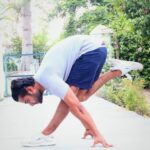 Shubh Rana
Rama Space is a registered school with Yoga Alliance. Our teacher training programs are internationally accredited, have exclusive recognition and qualify for 200 hr Yoga Alliance Registration. The one month intensive includes 24 days of training with sunday off per week. The combination of in class, contact hours together with out-of-class non-contact hours (prerequisite reading, reports and home' play) totals the hours at 200+. Yoga Alliance requires 200 hours for basic teacher training registration.
Yoga Alliance is an international governing board for yoga teachers and training programs in the United States and the rest of the world. Graduates of our program who have demonstrated an understanding of the material and complete all requirements will be eligible to register as a RYT (Registered Yoga Teacher) with Yoga Alliance. Becoming a RYT increases your status, brings you international recognition as a yoga teacher and optimizes your opportunities for employment as a yoga teacher worldwide.
For more information, please visit: www.yogaalliance.org
What we offer
Yoga and healing goes together – here at Rama Space we offer several recreational activities which are not only good for your body but healthy for your mind as well. The environment matters as much as a healthy diet while you maintain your learning from the best in class teachers.
About Rishikesh
Located in the foothills of the Himalayas in northern India, Rishikesh is known as the Gateway to the Garhwal Himalayas and Yoga Capital of the World. It is known as the pilgrimage town and regarded as one of the holiest places to Hindus. There are many unexplored hikes and small treks in and near Rishikesh. It also supports major adventure activities such as 'White water river rafting', 'Kayaking', 'Bungee Jump', 'Giant Swing', and many more. It proudly presents itself as the "Adventure Capital of India".
FLIGHT
The closest Airport is the Jollygrant Airport (15 km) in Dehradun and is well connected to Delhi and other parts of the country.
BY ROAD
You can board a direct bus, also a Volvo from Delhi to Rishikesh at a cost of 500 – 1000 INR per person. These are pretty frequent, departing every 30 min or so from Delhi ISBT and takes about 5-6 hour time to reach Rishikesh. A Private Vehicle can be arranged on request. The same is applicable for the return journey.
TRAIN
The closest Railway station is Rishikesh Yoga Nagri Railway Station and our ashram is just 15 min drive from there.
Stay in touch
Be the first to know about upcoming classes, retreats, workshops and other special offerings with all the current updates. We will be delighted to host you with the best yoga experience. Leave a message anytime 🙂